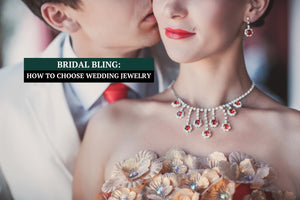 Bridal Bling: How to Choose Wedding Jewelry
The average wedding cost is almost $34,000 in the United States, which makes it a significant event in many people's lives that needs to be meticulously planned. Years from now, you want to look back on your wedding day with happy memories. For this reason, you should take care when hiring vendors such as makeup artists, hair stylists, and photographers.
Another significant part that you shouldn't overlook is the wedding jewelry. Knowing how to choose wedding jewelry is essential to be a stylish and classically timeless bride; however, you should follow a few general guidelines. Wedding planning takes a while, so reading this article will help, so here's what you need to know about buying the perfect wedding jewelry.
Wedding Ring Metals Comparison
Now, let's look at what type of metals you can buy. Wedding jewelry typically comes in gold, silver, and platinum.
Platinum and silver don't have color options, but you can also buy gold in white, yellow, or rose colors. Each will have its own level of durability, so it's essential to choose wisely.
Yellow Gold
Yellow gold is a precious metal and is more malleable than its white gold counterpart. It's a classic metal that suits warmer skin tones.
The cost depends on the amount of gold used. Typically, the higher the concentration of gold (i.e., 10k, 14k, and 18K), the higher the price.
White Gold
White gold contains more metal alloys than yellow gold but is more robust and durable. This is a crucial factor when choosing rings in particular. Because rings are worn on your hands, they are more susceptible to dings and scratches.
Silver
Silver is a popular option for jewelry due to its affordability. It's also much more available than gold or platinum.
Unfortunately, silver tarnishes over time, and you must clean it regularly to keep it pristine. Keeping your silver jewelry in protective containers or pouches will help extend the time between cleanings.
Platinum
Platinum is often the most sought-after metal for wedding jewelry; however, it comes with a hefty price tag. The price for this metal is higher for two primary reasons.
First, it's due to its durability, making it the perfect metal for rings, and second, it's challenging to refine. Additionally, platinum rings won't tarnish, discolor, fade to yellow, or corrode over time.
Tips for Choosing Wedding Jewelry
Choosing wedding jewelry doesn't have to be complicated and stressful. You can look beautiful on your wedding day whether you have a large budget and can afford multiple jewelry pieces or a smaller budget that can accommodate one or two unique pieces. Here are some tips and ideas for choosing wedding jewelry to help get you started.
1. Stick To Your Personal Style
The first thing you want to do when choosing wedding jewelry is to stay true to your personal style. If you do not wear a lot of jewelry, don't feel pressured to adorn yourself with necklaces, earrings, tiaras, bracelets, and rings.
Remember, you'll look at your wedding photos for years to come, so you must choose jewelry matching your style. If your look is unique, there's nothing wrong with choosing non-traditional jewelry made from alternative stones and metals.
2. Consider Your Skintone
This factor is easily overlooked, but your skin tone is another consideration when choosing wedding jewelry. Do you have pale or dark skin or tan easily and are maybe golden brown? Whichever it is, you need your jewelry to match.
For instance, white gold or platinum will work best with a cooler skin tone. However, metals like yellow gold, copper, and brass will complement you well if you have a warmer skin tone.
3. Stick With the Same Metal As Your Wedding Ring
If you're wondering, "Does your wedding jewelry have to match your engagement ring?" the answer is yes. Sticking to the same metals for a cohesive, stylish look is best. For instance, if your engagement ring is yellow gold, ensure your other jewelry is also yellow gold.
If you wear a yellow gold wedding ring, rose gold wedding band, white gold necklace, and silver earrings, it can look haphazard and almost cluttered. As a bride, you want to look radiant on your special day, so remember to stick to the same metals throughout for a classic, stylish look.
4. Less Is More
Some may think they must "go all out" when buying wedding jewelry. The fancier, the better. However, this is not always the best thing to do.
Remember, your wedding photos will be looked at years from now when you have children, and you want to look as timeless as you do now. When choosing your wedding jewelry, keep it simple for maximum effect. We've all heard the old saying, "less is more," after all.
5. Consider Your Neckline
Another factor to consider when choosing wedding jewelry is what your dress looks like. No, we don't mean the color (though that helps, too, see tip eight) but rather what type of neckline it will have.
For instance, suppose your wedding dress is halter or has a bateau neckline. In this case, there may be better choices than a choker-style necklace. You may be better off forgoing a necklace entirely and leaving the dress's neckline to speak for itself.
Conversely, if you have a plunging neckline, choosing a necklace with a bit of a drape may be better. However, you don't want it to drape too low that it drapes over the dress's neckline.
6. Consider Your Face Shape
We've got you covered if you're wondering how to choose bridal jewelry according to your face shape. You might be wondering why your face shape matters, but it does. Specific styles of wedding jewelry look better on certain faces.
Square Face Shape
If you have a square face, pick round jewelry items. You can choose earrings that are studs or hanging pieces and pair them with a matching, round necklace, which will soften the curves of your face giving you a timeless look.
Diamond Face Shape
When you have a diamond face, you want to find pieces that curve along with the natural angles of your face. For example, look for earrings that are mid-length tier. You want to avoid wearing earrings with sharp angles.
Round Face Shape
If your face is round, headpieces may be an ideal jewelry item to accessorize with. Consider wearing a Maang Tikka, a piece of native Indian jewelry. This is typically worn in South Asia, and many of these Maang Tikkas have an Agya Chakra, a pendant that rests on the forehead.
Rectangular Face Shape
You may have a more prominent forehead than others if you have more rectangular facial features. You can use this to your advantage on your wedding day by wearing a Maang Tikka with an elaborate Agya Chakra. Pair this with simple hanging earrings, and try to match their size to the Agya Chakra.
Oval Face Shape
If your face is oval, you're in luck. Virtually any style of jewelry will look good on you.
You can opt for short pieces like stud earrings and choker-style necklaces or longer ones if your dress allows it. You can have fun building up a wedding jewelry set, so get creative.
7. Consider Your Wedding Hairstyle
Another thing to consider when choosing wedding jewelry is to keep your hairstyle in mind. Before buying your jewelry, you must know how you're styling your hair for the wedding. You'll also need to decide if you're wearing a veil and, if so, what style veil you'll be buying or renting.
For instance, if you have a stylish updo, you can look great wearing longer earrings because they will be more noticeable. Suppose you're leaving your hair loose for the wedding; you might want to skip earrings or opt for small diamond studs. These can offer hints of elegance throughout the event as your hair moves around your face.
8. Match It With Your Dress
Another idea when choosing wedding jewelry is to consider whether you want it to match your wedding dress. Matching your jewelry with your dress is an excellent way to create a timeless look. What do we mean by this?
If your dress has color, you can bring that color across in your jewelry. For example, jewelry that incorporates precious stones like pink quartz can look spectacular if you wear a pink wedding dress. Likewise, if your dress has a lot of lace fabric or has a pattern in beads, you can carry these elements into your wedding look by choosing jewelry pieces with lacey details.
9. Consider the Wedding Venue
Another wise element to consider is where the wedding is taking place. Why is this important?
Suppose your reception is being held in an opulent ballroom. In this case, you want to choose wedding jewelry that matches the venue's formality, for example, a tiara.
Conversely, if your wedding venue is more casual (think garden party wedding), wearing elaborate jewelry with many gemstones, diamonds, and semi-precious stones may seem out of place.
Pro Tip: If you're having an outdoor wedding, consider incorporating interesting accents into your jewelry, like wood or tungsten.
10. Work Out a Budget
Calculate this before shopping if you have not thought about how much you can afford when choosing wedding jewelry. Without a budget, it's easy to get caught up in wedding fever and buy jewelry items that look great but are much more than you can comfortably spend. After all, the last thing you want to do is start your marriage in debt.
Instead, sit down with your fiance and decide on a budget for the wedding attire on both sides. Remember, your groom and his posse will also need their bling for the day. Work out how much you can afford, be strict when shopping, and stick to your budget.
11. Buy From a Reputable Jeweler
Many people wonder if buying wedding jewelry from an online shop is okay. Of course, this has pros and cons, but you should be okay if you pick a well-established and reputable jeweler. Wedding jewelry costs can run into the thousands, so you want to ensure the diamonds and gems you buy are genuine and ethically sourced.
If you choose to buy from a brick-and-mortar store, you get the benefit of being able to try on various pieces before swiping your credit card. Take a sample of your dress material to the shop if possible. This way, you can create a perfect jewelry set that will match the dress and the wedding.
12. Get Loved Ones Involved
Finally, when choosing wedding jewelry, don't go it alone. Instead, ask loved ones to go shopping with you. This way, they can give you their opinions, and it's also a great way to bond with your bridal party, mom, or even your mother-in-law.
Find a list of local shops to visit and make a day of going to each to view what they have to offer. Going from shop to shop is also a great way to get an idea of what type of wedding jewelry looks good on you if you're uncertain.
Pro Tip: A necklace is a great thank-you gift for your bridesmaids, so consider getting them one each when you're jewelry shopping
Know How to Choose Wedding Jewelry That Rocks
Learning how to choose wedding jewelry before you spend any money is the mark of a wise bride. There are so many elements to consider, like deciding what metals you want your jewelry in and how to match it to your dress. You must also choose bridal jewelry according to your face shape to ensure you look radiant on your wedding day.
If you're looking for high-quality wedding jewelry, view our ring catalog and find your dream wedding ring. We also offer personalized rings if you don't find what you're looking for.
---