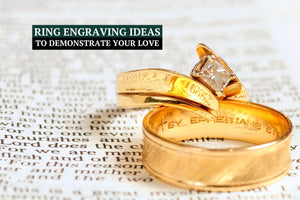 Ring Engraving Ideas to Demonstrate Your Love
When it comes to romantic gifts, there's nothing as touching and meaningful as a ring. Even better, rings with custom engravings are a great way to share a personal message with your loved one. But how can you choose the right ring engraving ideas for your gift?
The best ring engraving ideas are words that carry special meaning in your relationship. The most romantic engravings include favorite sayings and quotes, meaningful dates and locations, sayings in foreign languages, song lyrics, or inside jokes. You can also include the words from your wedding vows, or you can include a special promise or secret message for your loved one.
No matter what you choose, it's important to find words that are close to your loved one's heart. Here are a few of the best ideas for your ring engraving.
Coordinates
Whether the two of you are world travelers or there's a single place close to your heart, a great ring engraving idea is to celebrate that special location with the perfect ring engraving. By setting the latitude and longitude of that location into a ring, you'll keep that place close to you at all times.
Depending on your love story, you may choose to engrave the location where you first met, where you had your first date, or where you went on vacation together. Alternatively, you might want to engrave the latitude and longitude of your home city, or the location where you were married. If you prefer, you can list the coordinates in traditional format, or you can go with a roman numeral format for a classic look.
Meaningful Times and Dates
Are there any special moments you'd like to commemorate with your ring? Whether you're seeking ring engraving ideas for your husband or your fiancé, take some time to consider the special moments in your love story.
If you're already married, celebrate your special day by inscribing your wedding date into the ring itself. Otherwise, set down the day you first met or got engaged. If you have a child together, inscribing the date and time of their birth can be a wonderful way to celebrate the story of your family as a whole.
Special Promises
If you're gifting a promise ring, you're probably offering up a pledge in the traditional or historical sense. Promise rings have long been used to symbolize fidelity, or to act as a placeholder before an engagement ring is given. Essentially, they act as a promise that you are committed to the relationship.
However, if you'd like to add something special to the ring itself, consider engraving an extra promise of your own into the metal. This can be a description of the traditional pledge, a promise to love and be faithful to your partner. Of course, you might also want to add a more personal promise, such as a promise to stick by your partner in tough times, to accept and love them fully, or to make your partner your life's priority.
Your Names
Sometimes, the simplest engravings are best—and they can even carry the most meaning for the right couple. Engraving each other's names inside matching bands can be a great way to carry your partner with you at all times. To conserve space, you can always opt for your initials—especially if you're pairing your names with other ideas on this list—or go with a simple monogram.
In addition, if you have a special nickname or a silly moniker for your partner, consider immortalizing it in an engraving! These nicknames add a unique, personal touch to the ring itself.
Words in a Foreign Language
Romance in a foreign language has a certain "je ne sais quoi," but for some couples, a specific tongue carries deep personal significance. This is especially true of the romance languages, like Latin, French, and Italian. Whether the language is related to your heritage or it's from a place the two of you traveled to together, it can be a lovely way to showcase your feelings.
Of course, you will still need to decide what to say in the foreign tongue. Consider translating engraving ideas from the other tips on this list, or translate simple romantic phrases like "My heart" or "Always."
Words in Your Mother Tongue
If you speak multiple languages, or if your loved one does, consider celebrating that heritage by setting down the right words into your ring.
Just as above, these words can be translations of things you'd like to say to your partner in any language. However, you could also incorporate traditional sayings about love from your family, or draw them from your culture itself.
A Visual Image
Because there's only a small space to work with inside a ring, many couples don't think to consider images. However, it's sometimes possible to include small images on the inside of a ring through precision laser engraving.
It's worth noting, of course, that the size of the band and your budget may narrow down your options. Be sure to talk to an expert before you get too deep into planning!
Consider simple symbols that include special meaning, like a heart, tree, or star. Alternatively, go for something more complex, like a coffee cup to show where you first met or a sailor's knot to depict your love of the ocean.
Fingerprints
A fingerprint can be a beautiful and unique ring engraving idea for a wife or husband. Of course, the ability to create a fingerprint depends on the size of the ring itself, though it can be easier on larger statement rings.
Engraving each others' fingerprints on matching rings can even symbolize your closeness. In addition, if you have children together, you might also want to consider having an imprint of your child's fingerprint.
Literary Quotes
When you're lost for words to describe your love, consider turning to some of the greatest writers and poets for inspiration. Choosing classic quotes from the likes of Shakespeare, Keats, or Oscar Wilde can be the perfect way to express your feelings in beautiful words.
If there are any writers and poets that are close to you and your loved one's heart, of course, consider opting for one of their quotes. This way, you'll imbue your ring with the special meaning of both lovely words and a writer you both adore.
Bible Verses
For many couples, faith plays a major role in a relationship and marriage. If that's the case for you and your partner, consider including verses from the Bible in your engraving. With scripture quotes, you can make it easier to highlight your love for both God and each other.
There are countless Bible verses that are perfect for engraving, including popular options that speak to many loving couples.
Depending on the size of the engraving you want, consider including either the entire quote itself or simply the book and verses. For example, "Song of Solomon 2:16" takes up much less space than the full scripture will.
Pop Culture Quotes
While classic literature and scripture offer a wealth of lovely material for ring engravings, they're not the only sources available, especially in a world full of pop culture.
Many couples are opting for engravings outside of these traditional options, like movie quotes with special meaning or video games the couple bonded over. These quotes are great for promise, wedding, or engagement rings, and they're even a fun option for simple rings given as anniversary gifts. Popular examples include "I love you" and "I know" from Star Wars, "I choose you" from Pokémon, or "It's dangerous to go alone" from The Legend of Zelda.
Song Lyrics
It's not unusual for couples to have a special song that carries added weight and meaning to them. Whether it's the song you first danced to or a tune from a band you both love, engraving a meaningful lyric can help add some personality to your ring. You may have to consider going for a short and sweet option, depending on the size of the ring, but it can still bring the music to mind when you need it most.
Inside Jokes
For couples with funny bones, humor lights up the relationship. Carrying that keen sense of humor into your ring engraving can add some whimsy and fun to the ring itself. Consider adding the words of an inside joke that cracks you both up every time, or write in a silly secret that you both share.
Of course, you might also want to poke lighthearted fun at the fact of your marriage. Phrases like "No refunds," "Legally mine," or "Dibs" are funny ways to make your spouse smile each time they see those special words.
Favorite Sayings
If you lean on a common saying or funny cliché, it might be the perfect thing to add to your engraving. This can include pop culture sayings like "Ride or die" as well as classic sayings like "It is what it is." In addition, consider adding any family mottos or sayings passed down from one generation to the next.
Romantic Vows
If you are already married or plan to be married soon, there may be no better words to place within a ring than your marriage vows. These vows are meant to express the permanence of your love, and adding them to your ring can help you and your loved one remind yourselves of them each and every day.
This doesn't mean figuring out how to include the entire text of your vows, of course! Instead, opt for a few of the words that touched you most deeply when you spoke them. This is true whether you choose a single word like "Always," a phrase like "From This Day Forward," or an entire sentence like "I will love you for all the days of my life."
Split Messages
For couples searching for wedding or anniversary ring engraving ideas, split messages can be a great option. If you're willing to engrave two rings, split messages can help symbolize the way both of you have come together to form a single couple.
To make this work, you might want to choose a saying from an idea elsewhere on this list. Alternatively, you can split up common romantic sayings like "To have" and "To hold," or "Here is my heart" and "Guard it well."
If you're looking for ring engraving ideas for your girlfriend or boyfriend, this can still work for couples choosing promise rings.
Handwritten Statements
If you want to add a custom touch to your rings, you might want to consider creating handwritten statements in addition to the words themselves.
Using one of the ideas in the list above, you can write the words down in your own handwriting. With a laser engraving tool, an expert will recreate the exact style of your handwriting on the ring itself.
This option can be a great way to emphasize the personal nature of your engraving. Just be sure to use your most beautiful handwriting for the job!
Make the Most of These Ring Engraving Ideas
No matter which of these ring engraving ideas you choose, the engraving itself will only feel unique and personal if the words are close to your heart. Consider which of the ideas above will make your significant other break into a smile, and go from there. With the right engraving, you'll create a meaningful gift that will symbolize your love for years to come.
When you're looking for the right ring and engraving to commemorate your relationship, Philophrosyne has it all. With our personalized rings to engrave with special words, you can offer a beautiful and long-lasting gift that offers a meaningful saying straight from your heart. Shop our jewelry today, or contact us to learn how we can provide a custom-engraved piece for the one you love!
---